First Medical Diagnostics
First Medical Diagnostics foundation stone was laid in the Year 2014 with a vision and a dream to scale new benchmarks in IgG Food Allergy Test with a personalised patient care.
The idea was to bring about a transformation and best practices into the domain of Food Allergies place when it comes to specialised test in the field of Delayed Food Allergy Diagnostics, at the patient's doorstep, with Gold Standard Allergy Testing.
ImuPro, a well-established brand in the domain of IgG Delayed Food Testing, was introduced first time in India by FMD.
The idea was to offer a diagnostic test -as a tool to medical practitioners, Nutritionist, Dieticians and Wellness Clinic which can help identify the challenge food's, advise change of diet and to enhance their medical practice through right diet and counselling.
Delayed Food Allergies, have been known to aggravate chronic inflammation and thus leading to possible symptoms like Chronic inflammation resulting from Food Intolerance's may cause Gastrointestinal ailments like bloating, constipation, diarrhoea, nausea, Crohn's Disease, Irritable Bowel Syndrome (IBS), Headaches, migraines, Obesity, chronic weight problems, Atopic dermatitis-like skin problems, psoriasis, eczema etc.
IgG food allergies often remain undetected because the symptoms only occur a few hours or even days after the consumption of a trigger food. This makes them extremely difficult to identify. Fortunately, a reliable diagnostic test and nutritional concept can help: ImuPro.
FMD has to its credit bring a better transformation in patient's health , through a change in diet , following the ImuPro test reports, by not just performing a diagnostics test but also a complete hand holding. The concern is to apprise the patient about the test report, do a report counselling and also suggesting alternative diet options.
Not only that, a small word of assurance and motivation has been followed as a best practice tool to ensure the patient follows a compliance , a regime , to change their diet, as per the test reports, reduce inflammation and bring about a turnaround in the chronic symptoms they have been suffering.
Our Best Practice Tools has been well appreciated by the medical community, patients and even the Diagnostics Lab.
We have on Board, Oncquest Laboratries Ltd .as a National Level Partner for sample collection and marketing , Dr. Dang's Lab , A well known Diagnostics Clinic in New Delhi and MedOne in Chennai- Tamil Nadu, LifeCare Hospital in Gujarat , Holistic well Being in Patna and Millenuim Cancer Centre in Gurgaon.
Our Partners have been pillar of strength and support , ensuring the ImuPro Test results be explained to the patient individually.
FMD has been pioneering with innovations and ideas in patient well being and thus it has taken patient care to a next level by ensuring home sample collection, personalised counselling , offering suggestions for alternative diet , helping the patient discover new recipes with cooking classes and nutritional recipes.
Taking FMD to wide spectrum of more clinical diagnostics test in the best practices , we have introduced A stress Meter measurement Diagnostics Test - NeuroSpot .
Its a A simple lab test to show you how much juice is still left in your battery - and how you can recharge it. Chronic stress can not be tied to one cause or one complaint. It is almost always - an individual mix of various factors. THE NEUROSPOT TEST – With the NeuroSpot tests it is possible to determine the current stress load in your body, with just one urine and saliva test. All important stress hormones and the participating messenger substances of your body are tested.
Thanks to the patented DrySpot technology you are able to very easily carry out the test, even at home.
---
Dr. AbdulHameed Alkhateeb is the founding chairman of FIRST MEDICAL DIAGNOSTICS PVT. LTD in India. Currently he is an assistant Professor Biomedical Engineering King Abdul Aziz University In Saudi Arabia since last 32 Years.
He completed his Degree in B.Sc Field of Electronics and Communications and later on M. SC. Bioengineering from the University of Michigan - USA, and finally a Ph.D. in the Field of Bioengineering from Penn State University- USA.
He was a former Executive Director of Biomedical Engineering at International Medical Centre, and was pioneer in Commissioning team for Healthcare Facility at King Abdullah City and at Petro Rabigh Health Care Facility for Science and Technology.
He was a former Chief Technology Officer in Charge of Three Departments: IT, Biomedical Engineering and AVLCS.
During that time he the lead the teams and successfully passed the MRQP and JCI Accreditations. Was the team leader for the following JCI Chapters: 1- FMS: Facility Management and Safety 2- MOI: Management of Information 3- Governance, Leadership, and Direction
---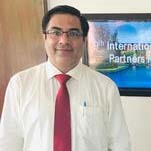 FMD is represented in India by Mr. Neeraj Arora - Director - First Medical Diagnostics Pvt. Ltd.
Coming from a humble background of IT Industry , he believed in the idea of Transformation and thus he choose to Take FMD to next
level of Clinical Diagnostics and patient care at par with International Level . He has been successful in ensuring a quality support to patient, ensuring compliance , ensuring national level presence and establishing a personal connect with patient for their wellbeing and good health.