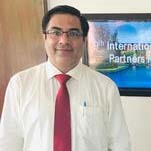 FMD is represented in India by Mr. Neeraj Arora - Director - First Medical Diagnostics Pvt. Ltd.
Coming from a humble background of IT Industry , he believed in the idea of Transformation and thus he choose to Take FMD to next
level of Clinical Diagnostics and patient care at par with International Level . He has been successful in ensuring a quality support to patient, ensuring compliance , ensuring national level presence and establishing a personal connect with patient for their wellbeing and good health.
ImuPro have been providing high standards of diagnostic testing to India & over 40 countries in the world for over 10 years and are experts in the field of delayed IgG food intolerances (Type III Allergy)